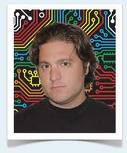 Peter Corbett, founder of iStrategyLabs and an expert of marketing with social media, believes that if you post interesting information through your personal media outlets, your following will grow naturally. Corbett also explains why being a connector is the most important personality trait in the era of social media. No wonder he was named one of the Most Influential Washingtonians Under 40 and one of 25 Doers, Dreamers and Drivers by Government Technology Magazine.
What are some basic/simple ways individuals can build their personal online brand if they are not extremely tech savvy?
Building a brand online isn't about being tech savvy. It's really about being interesting, talented, and smart. If you got those things, you can build a great brand online (and a great career). I recommend setup profiles on Twitter, Facebook, Linkedin and Quora. Poke around and you'll see how others are using these platforms to grow an online presence and then follow what works, and avoid what doesn't.
When starting a personal branding blog, what are some basic questions you should ask yourself?
What am I going to write about that will keep me excited day in and day out? Will people want to read what I'm writing? Will it benefit me professionally if I write about this topic. I don't recommend creating a "personal branding blog". I recommend doing interesting and important things and having the right social media footprint to amplify your efforts naturally.
Initial technical and content set up for a personal blog is relatively simple, but how do you gain readership traffic to your site?
You must create content that people like. It's that simple. If you do that – you'll be well read. People will pass your posts around and you'll gain a following.
How has connecting with the right people helped your business?
Great question. I think my primary job is to connect people. By doing so I'm able to deliver value to both parties, and in return, there's a bit of social capital that I accumulate that is able to be used later in life in some way. I'm really glad my personality type leans towards being a connector – it's perhaps the most valuable thing to be in the era of social media.
How is the setup and execution of personal branding vs. business branding online different or the same?
I don't see them as different. For both, I think about what my goal is, what my resources are, what my target audience is and what will be a compelling message to reach my audience. I have to say – I don't think much about personal branding. I think a lot about doing interesting things – the brand grows around a life of accomplishment.
What is something executives do wrong with social media?
The biggest error is to be boring. If you follow the status quo you won't stand out. You'll be just another suit with a Twitter account. Do something unique. Be some interesting. That captures people's attention.
Leave a Comment