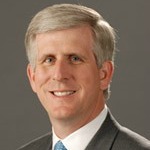 You might already know Todd Stottlemyer as the CEO of Interactive Technology Solutions, or co-founder of Apogen, but did you know he is also a founding member of Helping Children Worldwide? Helping Children Worldwide is a 501 (c) 3 nonprofit founded in 1999 that works with children in Northern Virginia as well as Sierra Leone. Stottlemyer's involvement in the nonprofit sector is reflective of his belief that teams foster and create change; with every individual there is a team to thank right behind them.
We also talked about personal branding, Stottlemyer named Abe Lincoln as the ultimate "authentic personal brand." Like the nonprofit sector, Stottlemyer believes that when building professional relationships, you must focus on your connection's needs.  This way you create a sustainable, mutually beneficial relationship.
What is your background?
I am currently the CEO of ITSolutions, a mid-market information technology and management solutions company that serves both government and commercial customers, with a strong focus on the Federal health IT market.  We are backed by private equity firm SnowPhipps.  Prior to ITSolutions, I co-founded and led Apogen Technologies as Chief Executive Officer.  Like ITSolutions, Apogen was also private equity backed by Arlington Capital Partners.  In late 2005 Apogen was sold to QinetiQ.  I also served as Chief Financial Officer of BTG (now part of L-3) and as a member of the senior executive management team of BDM International (now part of Northrop Grumman).  I have also had some very interesting work experiences outside of the technology industry, including serving as President of McGuireWoods Consulting, President and CEO of the National Federation of Independent Business, the nation's largest business advocacy group, and as an Executive Vice President with the Inova Health System.
How would you describe your personal brand?
I work very hard to involve myself in purposeful work, whether it is for my business or for other civic or philanthropic commitments.  Someone once told me very astutely that "life is not a dress rehearsal."  He is right.  I have always tried to work for or build organizations that did work that really matters, work that you are proud of without any hesitation.  That really drives me.  I would hope that others see me as a servant leader, someone who is most interested in the success of others and not concerned about getting the credit.  As someone who played sports through college, I really believe teams win.  Yes, teams need strong leaders, but there is nothing more satisfying to me than watching a group of individuals take on a grand effort or task and then win and succeed as a team.  Team wins are still a big adrenaline rush for me.
What are some best practices for other executives when building their brand?
Be authentic.  I think authenticity is one of the most important attributes of leadership today.  Be yourself and don't try to be someone you are not.  Employees and others see right through a lack of authenticity.  I am big fan of President Lincoln.  He was an authentic leader.  Lincoln had a clear vision for the future (a nation, not just a country) and provided authentic leadership at a time in our history when it was most needed.
What do most folks do wrong when trying to network?
They focus only on what they can get out of the relationship instead of building a mutually beneficial relationship.  They also focus on how many connections or friends they can have in their network without really putting the time into building a real and lasting relationship with a smaller number of individuals.  While it is nice to have a lot of friends and so-called connections, the old saying that you only get out of something what you put into it is right on target.  I would encourage people to build their network, but do it in a meaningful way that creates real relationships that are mutually beneficial and personally enjoyable.
How has been being a connector helped you?
I have been truly blessed with a set of long-term mentor relationships that have helped me develop and grow.  These have been much more than just connections to me.   People like Earle Williams, Dan Bannister, Bill Conway, Phil Odeen, Ed Bersoff, and Mike Daniels have been great mentors and friends to me over the years.  I have tried to "pay it forward" by mentoring others in the same way that I received so much helpful advice and great counsel from my mentors.  I have particularly enjoyed the opportunity to serve as a guest lecturer over the past seven years for an "Entrepreneurial Value Creation" course that is taught at the MBA program at the Wharton School of Business by a good friend of mine, Dr. Terry LaPier.  It is a great treat to interact with the students.  I have also served and continue to serve on a number of corporate advisory boards and boards of directors.  These are great opportunities to help others grow their businesses and share with them both your successes and failures.
You have been very involved in the community.  Why is that important to you?
I worked at BDM International for over 12 years.  BDM had a fascinating corporate history – private company, public company on the AMEX, sold to Ford Motor Company, management buyout with The Carlyle Group, public company again on the NASDAQ, and then eventually sold to TRW.  As both a public company on two occasions and as a private equity backed company by The Carlyle Group, BDM provided superior returns to its shareholders.  In fact, there are very few companies that can match BDM's record for shareholder value creation.  At the same time, BDM stressed active corporate citizenship.  The leadership of the company, first Earle Williams and then Phil Odeen, truly believed that creating shareholder value and giving time and money to the community went hand in hand and were mutually inclusive, not exclusive.  They stressed that the strength of our company was our people and that building outstanding communities where our people lived and worked was a very important corporate objective.  They always led by example with their personal time and money.  I have tried to do the same.
Do you use social media to help your on-line brand?
I have LinkedIn, Facebook, and Twitter accounts.  I probably rely the most on LinkedIn to help me with my professional connections.  I started a Facebook account initially because I wanted to keep track of the activities of my three teenagers.  I enjoy keeping in touch with Facebook friends and do really like the ability to post interesting pictures from trips.  Twitter is just too much for me, and I have a hard time believing there is really anybody out there who wants a play-by-play of my day's activities or thoughts.
What is something most people don't know about you?
There are two things most people don't know about me.  First, I learned to ski when I was 37 years old.  The first two days would have filled up a year's worth of episodes for "America's Funniest Home Videos."  I was that bad.  My instructor had the patience of Job!  But I stayed with it, and now, without any immodesty, I count myself as a pretty accomplished skier.  Most importantly, I really love to ski with my family.  We have a great time together.  The second is my passion for improving the lives of children.  Several years ago, I, along with a few other people interested in this cause, helped start a nonprofit organization called Helping Children Worldwide (www.helpingchildrenworldwide.org).  Today, we have activities and programs in our local community in Northern Virginia (Connections for Hope) and internationally in Sierra Leone West Africa (Child Rescue Center and Mercy Hospital).  I traveled to Sierra Leone in early March to visit our children and make plans for future expansion efforts in the country.  It is amazing when you are fortunate to be part of an organization that is truly transforming the lives of children in such a positive way.  There is nothing better.
Leave a Comment