Archive for April, 2012
Posted on April 26, 2012, by JD Kathuria, under News.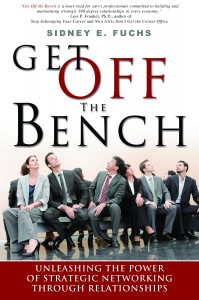 Today marks the one-year anniversary of the formation of WashingtonExec. I have to say, over the past year, I have increased my visits to The Tower Club exponentially….and one person who is synonymous with The Tower Club is Sid Fuchs, Chairman of The Tower Club since 2009.
Earlier this week, Sid announced the official release of his first book, Get Off the Bench: Unleashing the Power of Strategic Networking Through Relationships.
Sid's book describes everything that I believe should be quintessential for contracting professionals:
-The value of creating and cultivating a strategic network
-The importance of mentorship at all levels of your career
-How to leverage your relationships
Excerpts from the book were published on WashingtonExec earlier this year.
Sid has kept me in the loop regarding his many stages of publishing this book for a long time. I want to congratulate Sid for finally publishing his "labor of love."
You can "like" Get Off The Bench on Facebook here.
Join the Get Off The Bench discussion group on LinkedIn here.
Find Get Off The Bench on Twitter here
Find the latest news about Get Off The Bench on Sid's recently launched website www.sidfuchs.com
Get Off The Bench is now available for pre-order on Amazon.com and Barnes & Noble.com
Get Off The Bench will soon be available for your iPad and Kindle