Archive for May, 2011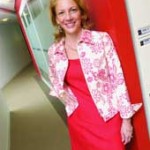 Despite  Anne Altman's longtime career in the private sector, Altman views her professional life as one dedicated to the public sector. She believes creativity is vital to establishing your brand and growing your company and that innovation is most useful when developed by teamwork and cooperation. Having a large network of business and personal friends not only has helped her in career, but has also provided her with a variety of outlooks and world views. Altman also strongly believes that you must maintain balance between forwarding your career and giving back to your community, as shown by the various her advisory positions in the academic, nonprofit and music sectors.
What's your current role at IBM?
I currently serve as General Manager of IBM's Global Public Sector. In this role I'm responsible for the strategy, direction, and development of solutions for public sector clients worldwide spanning federal and state and local government, education, health care, life sciences and pharmaceutical industries. I work with a team of more than 7,000 technology, research and consulting services practitioners globally who are playing a key role in IBM's internationally recognized smarter planet campaign.
How would you describe your personal brand?
Passionate and dedicated to the Public Sector. I joined IBM in 1981 as a systems engineer supporting the Federal Bureau of Investigation and then went on to many other roles within IBM – with the exception of a few, all in the public sector. I've been privileged to have worked in re-establishing IBM's position in the Federal market, and now combining health care, life sciences and education industries to my government portfolio in a global capacity. In my IBM career, while many things have changed – there's been one constant – namely, helping clients leverage hardware and software technologies, research and deep expertise to improve their operations and deliver quality services their respective constituents.
Stu Shea, founder of the non-profit USGIF, gives a thoughtful and informative interview about personal branding, social media, and how the best piece of advice he has ever received was from his college thesis professor.
Shea believes that an emphasis on community team building and that the wisdom of crowds sparks business innovation, social media is one way to start the discussion. Regarding personal brand, Shea suggests that most executives relay on a narrow set of skills to get through life, instead of engaging with a variety of people and outlets.
Stan Krejci, founder of the career and transition consulting company SK Group LLC, talks about how to have a great interview and why even start-up companies need a board of advisors.
Shana Glickfield, partner at the public affairs communications group Beekeeper, discusses the 'do's' and 'don'ts' when building a personal brand. The goal of the Beekeeper Group is to lead the public affairs sector "towards a community-based, hive-driven approach." Glickfield also lists some basic first steps when starting your online brand.