Archive for June, 2011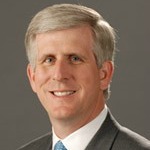 You might already know Todd Stottlemyer as the CEO of Interactive Technology Solutions, or co-founder of Apogen, but did you know he is also a founding member of Helping Children Worldwide? Helping Children Worldwide is a 501 (c) 3 nonprofit founded in 1999 that works with children in Northern Virginia as well as Sierra Leone. Stottlemyer's involvement in the nonprofit sector is reflective of his belief that teams foster and create change; with every individual there is a team to thank right behind them.
We also talked about personal branding, Stottlemyer named Abe Lincoln as the ultimate "authentic personal brand." Like the nonprofit sector, Stottlemyer believes that when building professional relationships, you must focus on your connection's needs.  This way you create a sustainable, mutually beneficial relationship.
What is your background?
I am currently the CEO of ITSolutions, a mid-market information technology and management solutions company that serves both government and commercial customers, with a strong focus on the Federal health IT market.  We are backed by private equity firm SnowPhipps.  Prior to ITSolutions, I co-founded and led Apogen Technologies as Chief Executive Officer.  Like ITSolutions, Apogen was also private equity backed by Arlington Capital Partners.  In late 2005 Apogen was sold to QinetiQ.  I also served as Chief Financial Officer of BTG (now part of L-3) and as a member of the senior executive management team of BDM International (now part of Northrop Grumman).  I have also had some very interesting work experiences outside of the technology industry, including serving as President of McGuireWoods Consulting, President and CEO of the National Federation of Independent Business, the nation's largest business advocacy group, and as an Executive Vice President with the Inova Health System.