Archive for January, 2011
Dan Schawbel, recognized as a "personal branding guru" by The New York Times, is the Managing Partner of Millennial Branding, LLC, and the author of the #1 international bestselling book, Me 2.0: 4 Steps to Building Your Future (Kaplan, October 2010). Dan is the founder of the Personal Branding Blog®, which was the #1 job blog by CareerBuilder in 2008 & 2009, is an AdAge top 50 marketing blog, and has been visited by 2 million people since 2007. He is also the publisher of Personal Branding Magazine®, a syndicated columnist for Metro US, the youngest columnist at BusinessWeek, and has been featured in over 350 media outlets, such as The New York Times, The Wall Street Journal, Details Magazine, and ELLE Magazine. He is a keynote speaker at colleges and universities, such as Harvard Business School and MIT and at major companies such as Time Warner, IBM, and CitiGroup.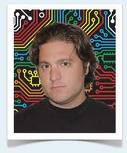 Peter Corbett, founder of iStrategyLabs and an expert of marketing with social media, believes that if you post interesting information through your personal media outlets, your following will grow naturally. Corbett also explains why being a connector is the most important personality trait in the era of social media. No wonder he was named one of the Most Influential Washingtonians Under 40 and one of 25 Doers, Dreamers and Drivers by Government Technology Magazine.
Bharet Malhotra, Vice President of Sales at Cvent explains what he thinks are the most important aspects when establishing a personal brand. Malhotra attributes taking ownership of individual actions as well as creating a unique personal brand to his success. He was also named Style Settler by the Washingtonian last year.
Nick O'Neill, successful entrepreneur of current ventures allfacebook.com and socialtimes.com, explains the most effective way to create your personal brand. O'Neill also tells us how businesses do not use social media to it's full potential, and how to fix it. It is worth the read.