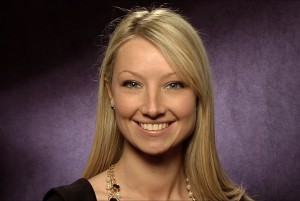 Becca Willcox, Sales and Marketing Manger at the Capital Grille, speaks about how to build your brand while working in the service industry as well as how to maintain professional relationships. Willcox is also working towards raising $1 million dollars for the Leukemia and Lymphoma Society through Capital Grill and local businesses in the Northern Virginia Area.
What is your background?
I grew up here in Northern Virginia, attended James Madison High school and graduated from George Mason University in 2005 with a degree in communication with a concentration focused on Public Relations. I never planned on working in the restaurant industry but was offered the Sales and Marketing Manager postion the Capital Grille after working here as a hostess during college. I love the company and the brand mesage that Capital Grille relays so I jumed in with both feet.
In your job you get to meet a lot of senior executives. What's your approach when dealing with your clientele?
I think that communication and recognition are two of the most important things when it comes to building up a loyal clientele and dealing with them on a daily basis.  No matter if you have high level executives, school teachers or college students; the key is to remember that everyone wants to feel special. Business dinners and special occasions alike mean a great deal to the people that are hosting them and going the extra mile without being asked is key.
There are SO many choices that people have when it comes to dining, or just spending their money in general, that I am HONORED to have them trust me with their business and more importantly, trust me to make a memory for them. Being as accommodating and grateful as possible and tending to the details it what makes the difference to me, so I think that is what makes the difference to my clientele and I think that comes across in my interactions with them.
How would you describe your personal brand?
When people think of me and my personal brand, I want the first two things that come to mind to be positive energy and integrity. When someone meets me, I want them to remember it. I strive hard to always leave a positive indelible impression on every single person that I meet.  After meeting me and getting to know me, I hope that when people think of me both personally and professionally, they think of exceeded expectations. I know it sounds cliché in the day and age of bigger and better and more "friends" or "followers", but to me, nothing can replace REAL enthusiasm and a genuine smile.
What advice would you give folks wanting to be more of a connector like you?
I am extremely lucky to be able to do what I do. My job cultivates connections and allows me to learn from the people that I meet on a daily basis. In essence, surround yourself with the type of people that you want to be like. Making a connection meaningful is the important part. You can shake a million hands, but if you do not establish relevance between yourself and another person, you will more than likely be wasting your time.  Figuring out how to make situations beneficial for everyone is the absolute key to being a good connector.
My brother gave me the nicest compliment that I have ever received when he was writing about me once and said "Becca will do whatever she can to make things happen. If she can't do it herself she knows someone who can. She will make your problem, her problem." Thinking of those words when you meet people will help you get to be where you want to be.
You were recently nominated as Woman of the Year for The Leukemia and Lymphoma Society. Tell us about that and how can our readers support your efforts.
This is the 20th Anniversary of the Man and Woman of The Year Campaign and I am so honored to have been nominated and chosen to represent such an amazing organization as The Leukemia and Lymphoma Society. I am amongst some great company and we are working towards a goal of raising $1 million dollars to fund research and help find a cure for blood cancers. My Team, BLOND Ambition was formed in honor of my best friend's father, who passed away from multiple myeloma when she was a young girl. Our best friends banded together to make this campaign a success because we Believe LLS' Objective Needs Dedication. It is an intense process and a lot of work,  no doubt, but holds an even bigger reward of I can make someone else's journey a little easier and further LLS' mission. We are working SO hard to meet our team goal of raising $100,000. Every little bit helps get us closer to this goal. If there is a company that is interested in a sponsorship or advertisement they can absolutely email me at bex1102@cox.net and I can provide more specific information on the most beneficial options for both their business and LLS. Also, people can do something simple, like go to our Facebook page and "LIKE" us. This will keep people up to date on the day to day of the campaign and all of the great events that we have scheduled at places like Karin's Florist, Dogwood Tavern, The Capital Grille, The Dandelion Patch, Cupcakes Actually, and much, much more! Starting March 31st, donations can be made via our fundraising website, which is http://nca.mwoy.llsevent.org/BlondAmbition. Anyone looking to help further LLS' mission is welcome to email me and I can tell them how they personally can show their BLOND Ambition.
Leave a Comment